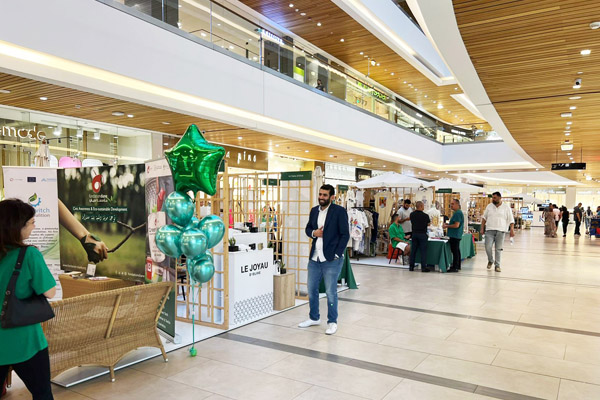 "Fondation Diane" Organized the 4th Edition of the "Green Market" to Support eco-Startups in Different Sectors
Under the framework of Green Entrepreneurship, "Fondation Diane" organized in collaboration with the "Asfari Foundation" and the "EcoSwitch Coalition" the 4th edition of the "Green Market" exhibition; a remarkable event that took place on 6, 7 and 8 July 2023 at ABC Verdun, a renowned mall that respects the environment.
The overall objective is to support eco-Startups and green MSMEs who are engaged in making a change via Sustainable Development, to recognize their roles in boosting the circular economy and most importantly provide them with a platform to introduce their green innovation and creativity.
Under the title of "towards responsible consumption", the exhibition showcased a wide array of green and eco-sustainable products & services from 23 exhibitors in different sectors. What is so unique about this edition is that it brought together carefully selected local businesses, not only in the agri-food, food & beverage, sustainable fashion & cosmetics sectors – as it is the case in the conventional exhibitions – but also products & services in the waste management, upcycling and recycling sector, in addition to the clean energy and green tech. This is what gives this event its leverage and significance, with locally produced, healthy, natural, organic, delicious, clean and beautiful products!
Diana Fadel, Founder & President of "Fondation Diane"
We believe in the social and environmental impact of green entrepreneurship. This initiative falls under our commitment to constantly support eco-startups and MSMEs in Lebanon; the key engines of the green economy.
We were the first to create a green fund in this regard. We have actively fostered partnerships with various stakeholders, including governmental organizations, as well as international and local non-profit entities. By leveraging these collaborations, we have been able to extend our reach and provide comprehensive financial, technical and operational assistance in addition to incubation and acceleration services to hundreds of green startups in diverse sectors, ranging from healthy food production, transportation, eco-tourism, renewable energy, energy efficiency, blue economy, sustainable waste management (solid waste, organic waste, fabric waste and e-waste), and much more. We are proud to have allocated significant resources to empower these ventures, enabling them to thrive and to serve as a role model for other businesses.
As we are looking to pre-empt the upcoming waste crisis in Lebanon, we have created the "Waste Diversion Management Consortium"; a group of 10+ waste management start-ups who are actively engaged in providing radical and long-term solutions to this national issue through an effective waste diversion plan; that is why we included the waste management sector as part of our special edition of the "Green Market" this year. Shedding the light on successful start-ups in the collection, recycling and upcycling field, our goal is to mobilize citizens and educate them about the benefits of sorting waste at source, and encourage them to do so as well as to dispose safely and responsibly of all types of wastes, including e-waste. This is part of an amazing national project that will be launched soon!
We are proud of this successful edition of the "Green Market"; providing our visitors with the opportunity to Shine in chic and upcycled fashion, Rejuvenate their skin and body, Embellish sustainably their home décor, Savour healthy and organic food, Energize their body and soul, Nurture their plants with organic compost, Generate clean energy and to Dispose safely of waste.
The urgency for a fundamental shift in "consumption & production" patterns is crucial in today's modern world. Particularly in Lebanon, it is imperative that we also need to acknowledge the alarming figures surrounding waste management. Our mission goes beyond merely recognizing the necessity for change; it is rooted in tangible actions and measurable results. By embracing innovative solutions, raising awareness, implementing efficient recycling systems and collaborating with key stakeholders, we could potentially reduce landfill waste by 80% and save a huge amount of CO2 emissions per year. Stay tuned to our upcoming project!"